Pneumatic conveying is widely used for the transport of dry bulk particulate materials. Many industries have processes that involve the transport of a wide variety of materials conveyed in powdered and granular form. Bulk materials are conveyed in the food, chemical, mining, agriculture, pharmaceutical, metals, paint and rubber industries, among others.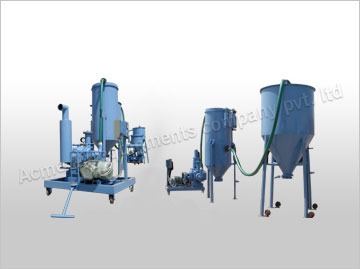 Pneumatic conveying system is basically quite simple and is suitable for the transport of powdered and granular materials in factory, site and plant situations. The system requirements are a source of compressed gas, usually air, a feed device, a conveying pipeline and a receiver to disengage the conveyed material and carrier gas. Pneumatic conveying system is totally enclosed, and if required, the system can operate entirely without the conveying material coming into direct contact with the moving parts. To convey the material, high, low or negative pressures can be used in the system.
Acme Air Equipments Co. Pvt. Ltd., an ISO 9001-2015 quality certified company, manufactures pneumatic conveying system of highest quality standards in the state-of-art manufacturing setup. This system is a widely adopted means of transporting dry bulk material either by vacuum or by pressure of air. Depending on the material to be conveyed, the air stream with specific velocity will carry the material to the final destination. Pneumatic conveying system is designed, fabricated, installed and serviced by us as per the customer specific requirements and data.
We manufacture and supply pneumatic conveying system which includes roots blower with suction and discharge silencer, electric motor, bellows, hopper, venturi, cyclone separator along with complete piping. We have successfully executed projects requiring pneumatic conveying system for leading companies belonging to various sectors so that they achieve their output in the most efficient manner. Our technical expertise along with rich industrial experience has helped us to deliver high quality systems even for complex industrial applications.
For more information and solutions on pneumatic conveying, feel free to contact us and visit – www.acmeairequipments.com