Acme Air Equipments Company Pvt. Ltd. is an ISO 9001-2015 quality certified company. The company as pneumatic conveying system manufacturer, we offer state-of-the-art solutions like air conveyor system for bulk material handling which is widely employed material handling technique.
Pneumatic System as the name suggests, is a system which uses the pressure of air or gas. In industries, this system acts as a mode to transport bulk materials with the help of Air or Gas Pressure.
As a widely adopted means of dry bulk material transportation with the help of Air pressure or Vacuum, Pneumatic Conveying System is the best bet.The air stream velocity is provided depending on the amount of products to be conveyed and takes them to the assigned destination.
Due to the pneumatic principle, Lean Phase Pneumatic Conveyor is a preferred mode of transportation in a various industries like Chemicals and Fertilizers Industry, Port Operations, Food Industry, Pharmaceuticals, Plastic Processing Industry, Cement Industry, Aluminium Plants and many more.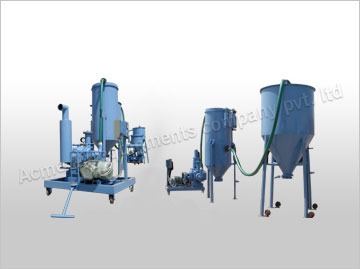 Technical Specifications & Design
These Pneumatic Conveying Systems are designed, fabricated, installed and serviced by us on the data submitted to us by the customers. The rate of transfer of material helps decide the size of the Power source, Filter and Cyclone If portability is required then a trolley is provided.
Key Attributes
Safe method
Helps in better housecleaning
Free from contamination
Simple and user friendly
Speedy transfer