Roots Blower – Twin Lobe Roots Blower, Positive Displacement Blowers
Acme Air Equipments Company Pvt. Ltd. is an ISO 9001-2015 company. We are into full fledged manufacturing of a wide range of Twin Lobe Rotary Compressors / Exhausters. These are also known as Twin Lobe Roots Blower / Vacuum Pump, or pd blowers used in various systems like Mechanical Vapor Recompression as MVR Blower and plants like Sewage Treatment Plants. These twin blowers are High volume-low pressure positive displacement (PD Type) Roots Blowers. The positive displacement rotary lobe blowers operate on differential pressure and constant volume characteristics.
We as two-stage roots blower company manufacture a wide range grouped under air cooled or water cooled design which covers capacities from 10 M³/Hr to 14000 M³/Hr.
We manufacture these machines Twin Lobe Rotary Compressors, positive displacement blowers, MVR Blower in our state-of-the-art modern facility equipped with CNC machines, CAD-CAM software and efficient production control system.
Acme Air Equipments as one of the leading roots blower parts, and two-stage roots blower manufacturers, and exporters and supplier offers only the most efficient technology and quality material in all its equipments.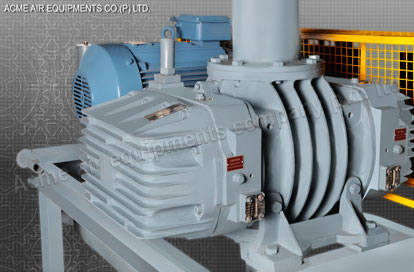 Some of the principal features of our design are:
Rugged construction
Lower specific power consumption
Operate in Overpressure up to 1000 mbar
Dynamically balanced rotary parts ensure vibration free running.
Suitable for Continuous Duty
Operate in Vacuum up to 500 mbar
Hardened and ground Class 5 Gears
Oil free conveyance
Direct coupled or V Belt driven
Some of the common usage of these Roots Blowers is as follows
Pneumatic Conveying System
Sewage Treatment Plants
Central Vacuum Cleaning System
Aeration in Storage silos
Charging of Kilns in Cement and Steel Plants
Blending
Effluent Treatment Plants
Dewatering
Water Treatment Plants
Air Drying
Mechanical Vapor Recompression (MVR Blower) etc…
Industries Served with Roots Blower
Cement, Steel, Aluminum, Power, Chemical, Pharmaceutical, Petro-chemical, Food Processing, Dairy, Space, Textile, Construction etc…