A Gas Booster is used for transporting gas between two points. The ratio of pressure between the inlet and discharge gases determines the efficiency of the gas booster. As the ratio increases from inlet to delivery, the rate of gas transfer will reduce. This is due to the fact that the gas must be compressed before it can be transferred. There are several types of Gas Boosters. To know more about each type, read the following article.
Gas Booster Compressors
Gas boosters and allied systems are a necessity for industries that depend on natural gas. Gas usage is variable depending on the nature of the industry, consumption pattern and grid connection. Consistent gas pressure is crucial for trouble-free operation and consistent quality.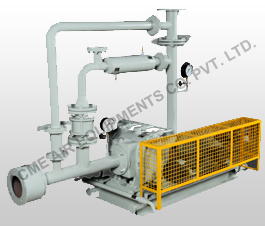 When used in a gas booster, atmospheric pressure is leveraged to deliver high-pressure air to the process. The pressure of the inlet gas ranges from 50 to 125 psig, but can be higher or lower depending on the application. A booster's motor speed and compressor size will determine how much downstream flow is delivered. This means that boosters can be customized for the particular gas compression requirements of an industry.
Packaged System Gas Booster
The need for a more efficient way to deliver high pressure industrial gases to end users has increased, particularly as the cost of helium and oxygen continue to skyrocket. This has led to the development of gas boosting technologies to increase throughput and reduce costs. Packaged systems can reduce maintenance downtime and improve productivity. In some cases, installing a second booster can improve overall output and efficiency. Further, package design and installation can increase the efficiency of the entire system.
Large industrial users can save money on purchasing gas as liquid instead of vapor. When purchased in liquid form, industrial gases vaporize at ambient temperatures. The booster is designed to develop additional pressure for the receiver, and a receiver can store the volume of gas available for rapid release. Boosting of liquid and aerosol gases can be achieved in two ways. The first is by converting the liquid into a gas form.
Applications of Gas Booster
Gas boosters are used in various industrial processes and equipment to increase the pressure of gas. They may be powered by an electric motor, hydraulics, low or high pressure air, or a lever system. These types of devices increase the pressure of gas by compressing it, thereby increasing the delivery rate. Some types of boosters are also used to boost the pressure of air in high-rise buildings. Here are some of the most common applications of gas boosters.
Despite the fact that natural gas is a renewable and affordable fuel, many industrial and commercial applications require higher pressures than the standard service. A natural gas boost system will improve the pressure level of gas in an area and reduce the need for gas cylinders. Some areas may not have adequate gas pressure due to the aging infrastructure of the building. Additionally, remodeling or equipment upgrades may cause the existing pipes to exceed their capacity. On the other hand, new constructions may benefit from reducing the header size.
Gas Booster Maintenance
When it comes to maintenance for gas boosters, there are a few basic steps that you must perform to ensure optimum performance. First, the drive air should be clean and unpolluted, which will extend the life of the booster. Secondly, it is recommended that you change the gas booster's fan bearings every five years and inspect it annually. Then, you should re-lubricate and re-seal it every 18 months.
The Bottom Line
Gas boosters have an operating life of 15 million cycles. For example, a gas booster that operates at fifty cycles per minute would last for 5000 hours if it operates continuously. Because their life is determined by the flowrate of the gas, they should be replaced every five million cycles to keep them in top condition. Then, if the gas booster is operated continuously at a rate of fifty cycles per minute, it should operate for at least ten years without any issues.