The pneumatic conveyor is an equipment with top-graded mechanism of transferring powder and granule particles from one place to another with the help of an innovative pipeline system. This innovative pipeline system can be advantageous to chemical & fertilizer industries, as the chemicals in these industries are valuable, and should not be leaked during the execution of the transferring process. Well, the Lean phase pneumatic conveyor system is a new & highly equipped machine that can shelter supplies of powder/granules and chemicals without any leakage. Therefore, here are various applications that this pneumatic conveying system can perform in chemical & fertilizer industries.
Various Applications of Lean Phase Pneumatic Conveyor in Chemical Industries
The chemical industries produce tons of chemical components on a daily basis, and as every chemical is valuable, the industries need equipment that can eliminate the leakage error. Lean phase pneumatic system is a suitable equipment that allows the material to relocate from one place to another by using low amount of pressure, whereas the velocity while transferring is usually high in this equipment. The major application of this pneumatic conveyor system is to block air and unwanted particles mixing up with the chemicals. There are various other prior applications that the pneumatic conveying equipment is used for. Applications like the lean phase conveying systemcan be used while transferring moderate capacity of materials, and in addition to that, it has the ability to discharge materials from several stations, and collect it at a particular point. Chemical industries may also demand for this equipment, due to its lean breadth pipeline system, that helps in transferring chemical components with better convenience. This lean pipeline system also allows multiple silos to get involved, as it can increase the chemical processing speed on a higher level.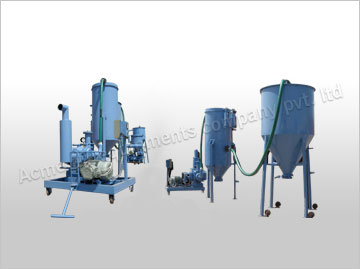 The Need for Lean Phase Pneumatic Conveyor in Fertilizer Industries
Fertilizer industries are one of those manufacturers that produce multiple products for farms, and plant's benefit. Therefore, the equipment used in fertilizer processing should be of superior quality. Now, the Lean phase pneumatic conveyor system can be a highly needed equipment in these industries, due to its quality aspects and various applications. This pneumatic conveying system offers a moisture control system in the equipment, which allows the system to control moisture from emerging in the pipeline, as it can affect the properties of a fertilizer. Another application that pneumatic conveyor offers to the fertilizer industry is called system distance. This system is useful for industries,  as the material in equipment gets to travel at a good leveled distance in one flow. There are various other roles of pneumatic conveying systems in fertilizer industries like balancing the internal temperature of the equipment on a certain level. Apart from that, the lean phase pneumatic conveyor also has the ability to block any unwanted particles along with the surrounding air to corrupt the fertilizer. Now, all of these applications of lean phase pneumatic systems can increase the need & demand for the equipment in the fertilizer industries.
With all the listed applications and features of this pneumatic conveying system, it can be considered that the equipment is capable of playing an important role in the chemical & fertilizer processing. Hence, additional things that this conveyor equipment has, is its high power capacity, which means the machine can run for a longer period on a continuous operation. Also, the pneumatic conveyor equipment is capable of utilizing minimum electricity in order to process various chemicals and fertilizers.